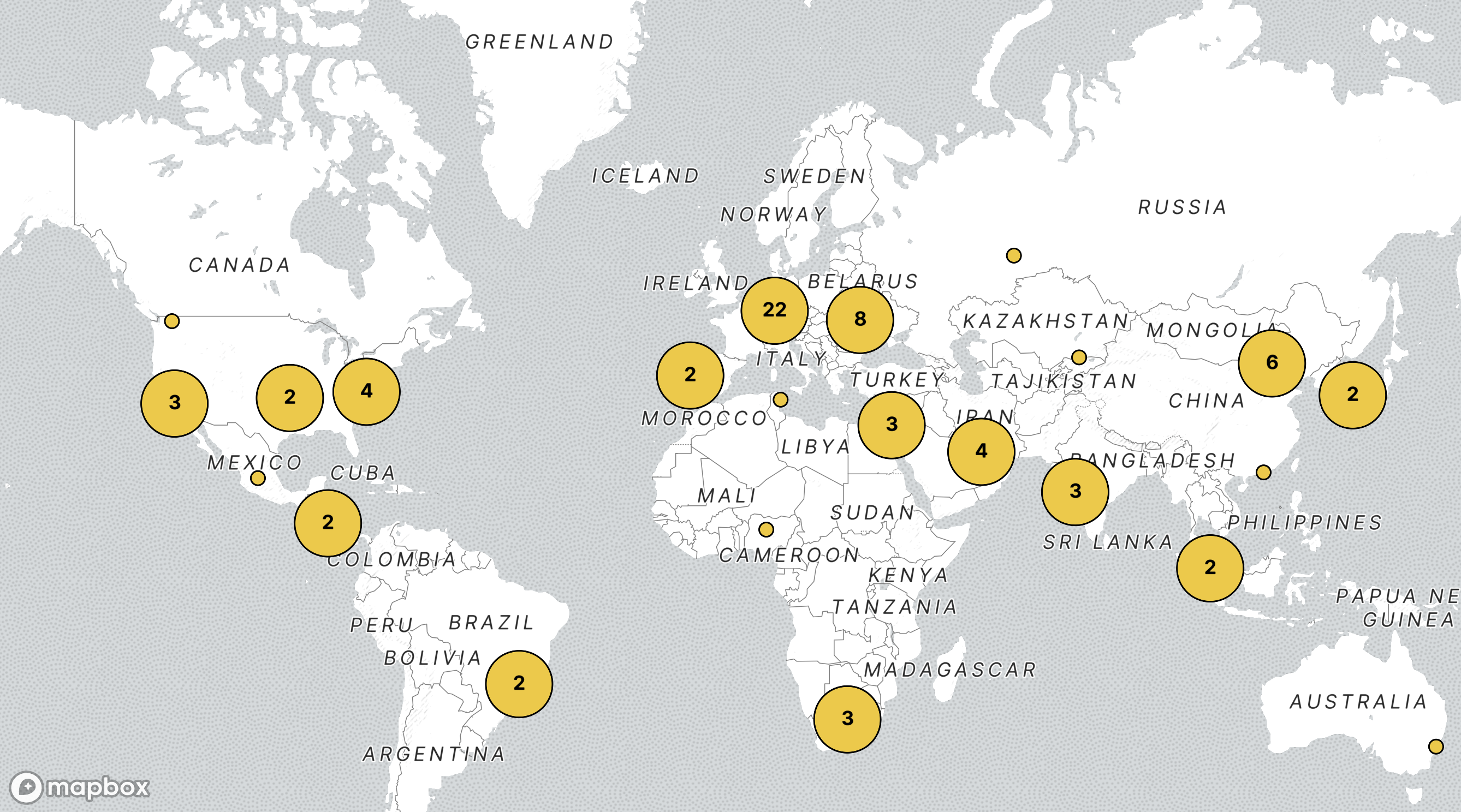 First month in, what did we learn?
Now that the dust has settled, let's take a look at the main finding from all your contributions. Also, what's in store for RAC's future?
by Daniel da Rocha on
When I created Remote Architects Club and was shily asking some friends to share their stories, I could not imagine how far it would go. It was great to see that architects throughout the world were willing to share their stories and experiences working remotely.
Now that the dust settled and architects working from home are no longer a novelty, I would like to step back and take a look at what we learned from you and how to move forward.
Data, data, data
While the data we collected is far from being very representative of the profession as a whole, it does show us some interesting facts.
Office Size
In general, people from smaller offices were more willing to share their stories than those in larger companies.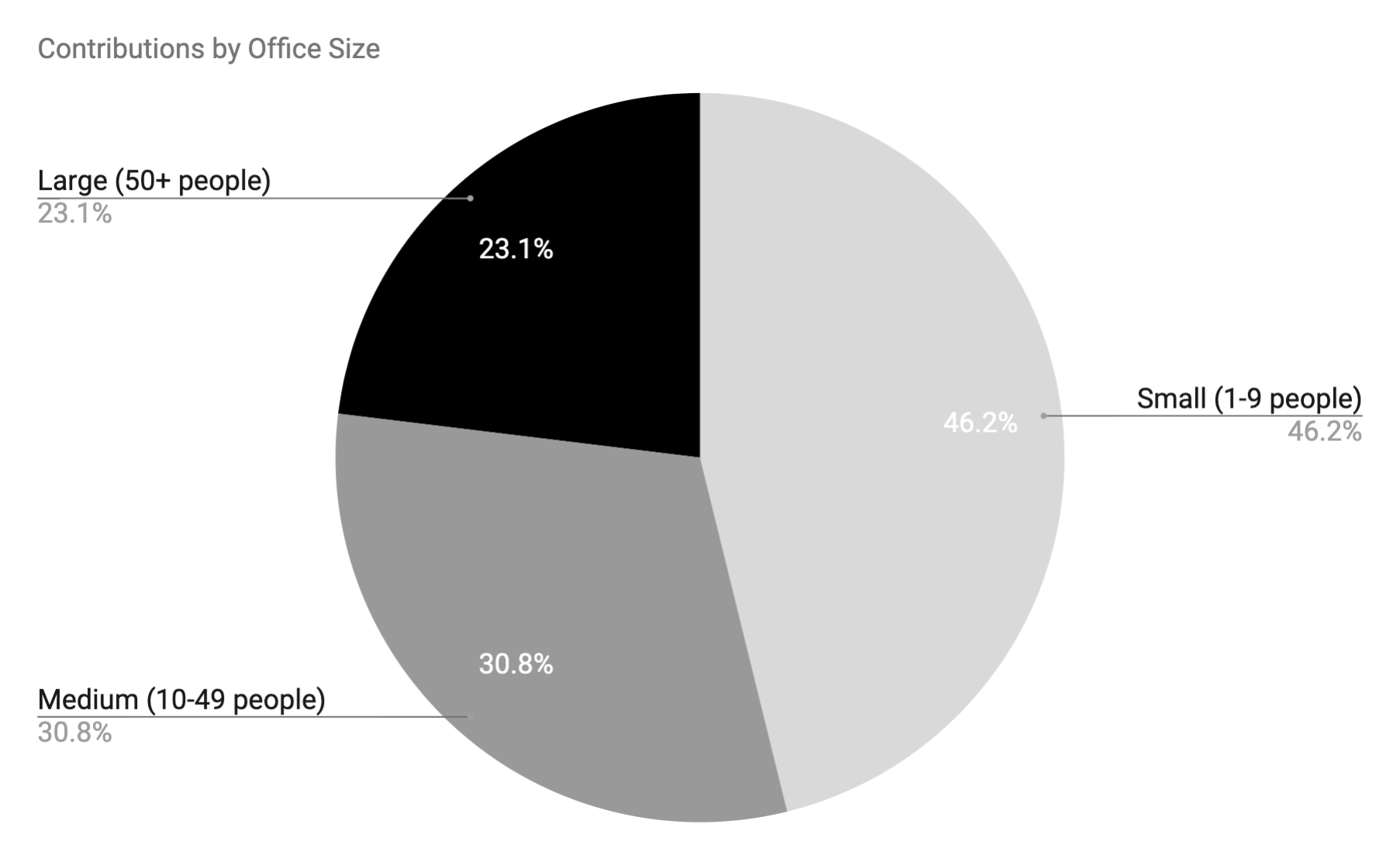 Talking to some friends working for big offices, I realized the feeling frequently comes from an unwillingness to share company-related information with others. Even if the form was anonymous, the office's name was still there. People in smaller offices, on the other hand, seemed much more open to sharing and learning from their peers.
Working from home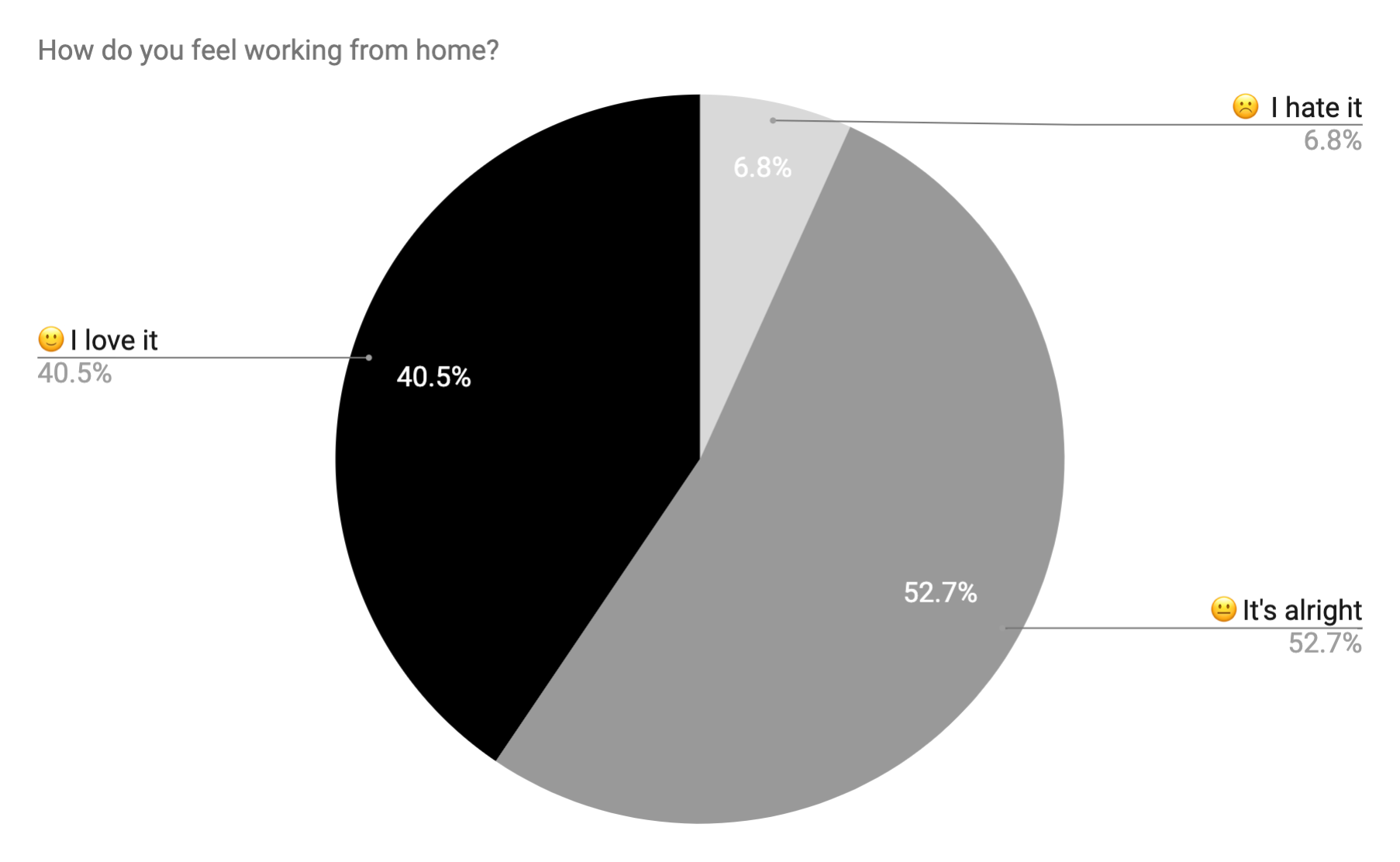 The majority of respondents saw working from home as business as usual. Nothing special, just something they had to do. Many saw the benefits of working at home, such as flexibility to structure their days, or being more productive and focuses. However, they looked forward to going back to the office, citing the separation of private/work life, communication and exchange with colleagues, and overall loneliness, as principal reasons for that.
« I find it quite nice working from home sometimes. Full time I wouldn't find it healthy. It makes it hard to stop working and separate work/private life. And I need exchange and feedback. Communication, efficiency, and technicalities, are areas we all need to train, but doable!»
— architect at EM2N, in Berlin (DE)

« It's taking longer to get s**t done! But it's somehow more relaxing. However i miss my colleagues and the energy of the studio.»
— architect at Killa Design, in Dubai (UAE)
It was great to see that also many people love working from home. Mostly, they feel there is less time wasted with commutes or meetings, concentration and efficiency are improved, and there is a lot of freedom about how they organize their days.
« Its not perfect but it does allow flexibility. Reducing my 2.5 hours commute time has been a god send and being 100% cloud in all our tools made the pivot simple and fluid.»
— Scott Osborne, from Total Synergy, in Sydney (AU)

« Working from home made me realize that 3 hours from my usually 8 hour working shift aren't very productive. Instead, I've been working 5 hours a day and dedicating the remaining 3 hours to professional improvement classes activities.»
— Giordana, from Junta Arquitetura, in Rio de Janeiro (BR)

« It is even better than working in the office, no distractions, improved concentration, no useless meetings.»
— Oguz Gurbuz, from VİVA ARCHİTECTS, in Istanbul (TR)
The few people who hate working from home mentioned isolation and lack of proper space and equipment as top reasons why they believe working in the office is better.
« I really miss the social aspect of being in the office, my chair, the possibility to really divide the space where I work and where I chill. Miss being able to ask a colleague what he/she thinks of a new massing/layout/diagram instantly without calling.»
— Polina Sevostianova, from HENN, in Berlin (DE)

« I usually spend long hours in the office & home is my rest time. Had to create my own office space at home but it is not the same working with a laptop. I need my large monitor and all my reference in reach. Miss my workspace.»
— Intan, from Hijjas Architects + Planners, in Kuala Lumpur (MY)

« Too much distraction working in the house. Very hard to keep my head in my work.»
— Dewayne, from ARIS Design Group, in Pryor (US)
Tools
It seems that, in terms of tooling, architects are pretty well served. Zoom is still the top most-used tool by all offices, followed by Microsoft Teams and Skype.
These are the top 5 most used tools by the respondents: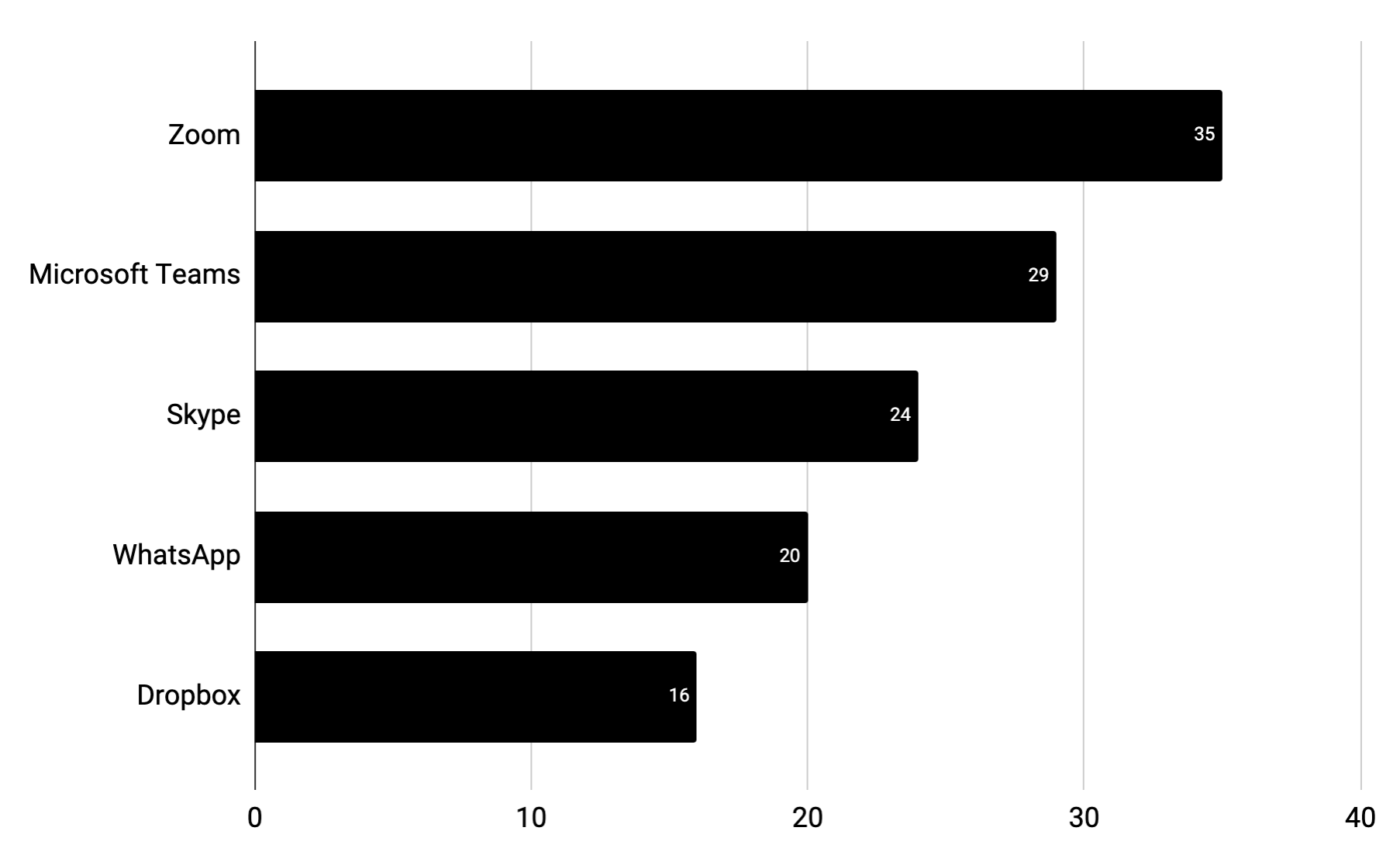 « The tools we were already working with before are just perfect for working remote.»
— Jan, from Teamwerk Architekten, in Munich (DE)
Most architects are satisfied with the available tools. Communication is made simple and comfortable with all the chat and video apps out there. Most are using company-provided hardware and accessing server files directly via VPN connections.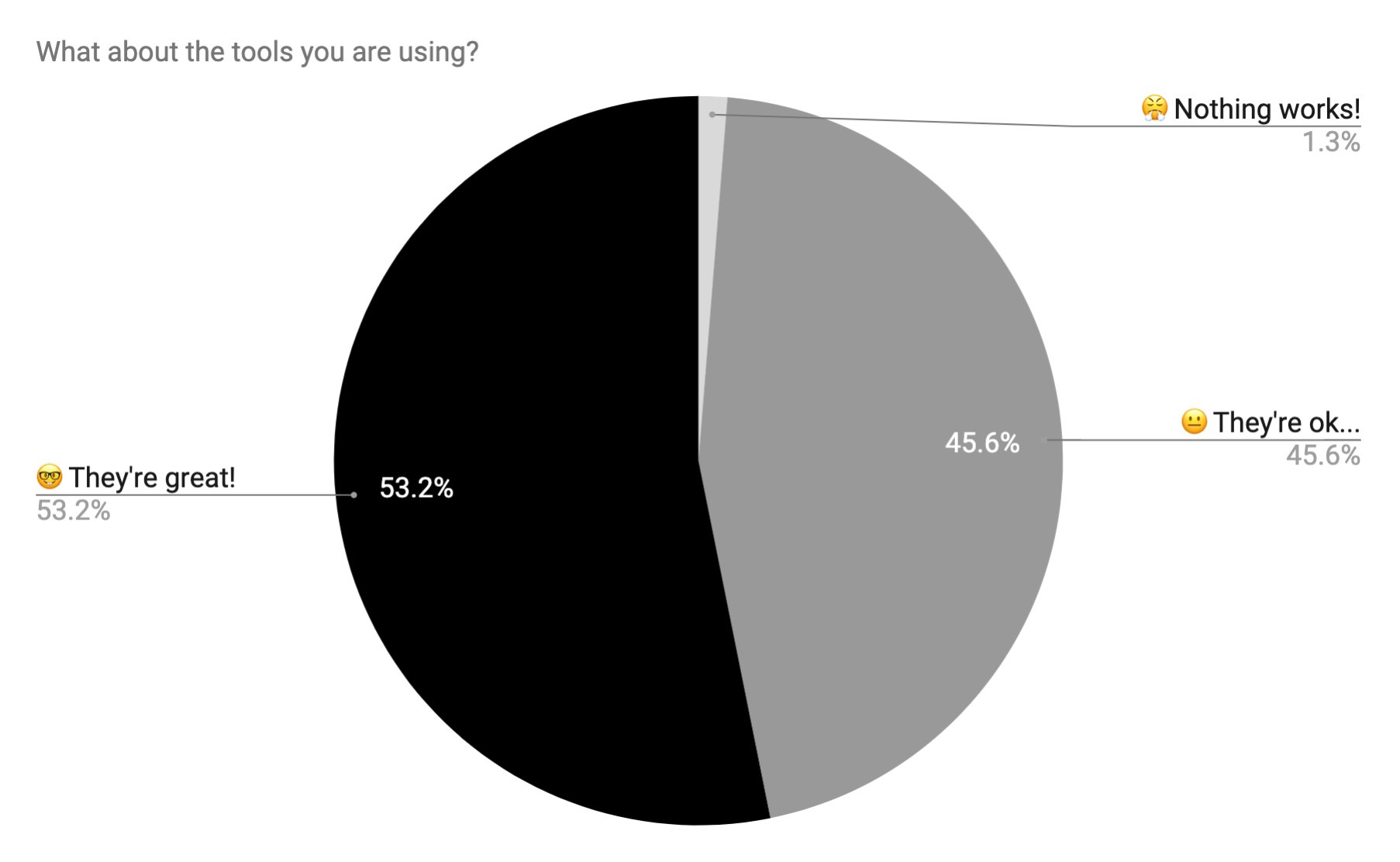 « Mostly we use Microsoft teams and it works quite well so far. We just need to get along and understand the functions better.»
— Julia, from lightsphere, in Zurich (CH)
There are, naturally, issues. A good internet connection is critical, and people have to get used to new tools and processes. Some complained about the learning curve or the number of new apps they have to deal with daily. Others complained about systems overload and connection issues.
« The tools are good, but with everyone else at home in our area on the internet our bandwidth is crawling. We get kicked off meetings or wait two hours for a file to upload to Dropbox.»
— Kit, from Serious Fun Studio, in Twisp (US)
Company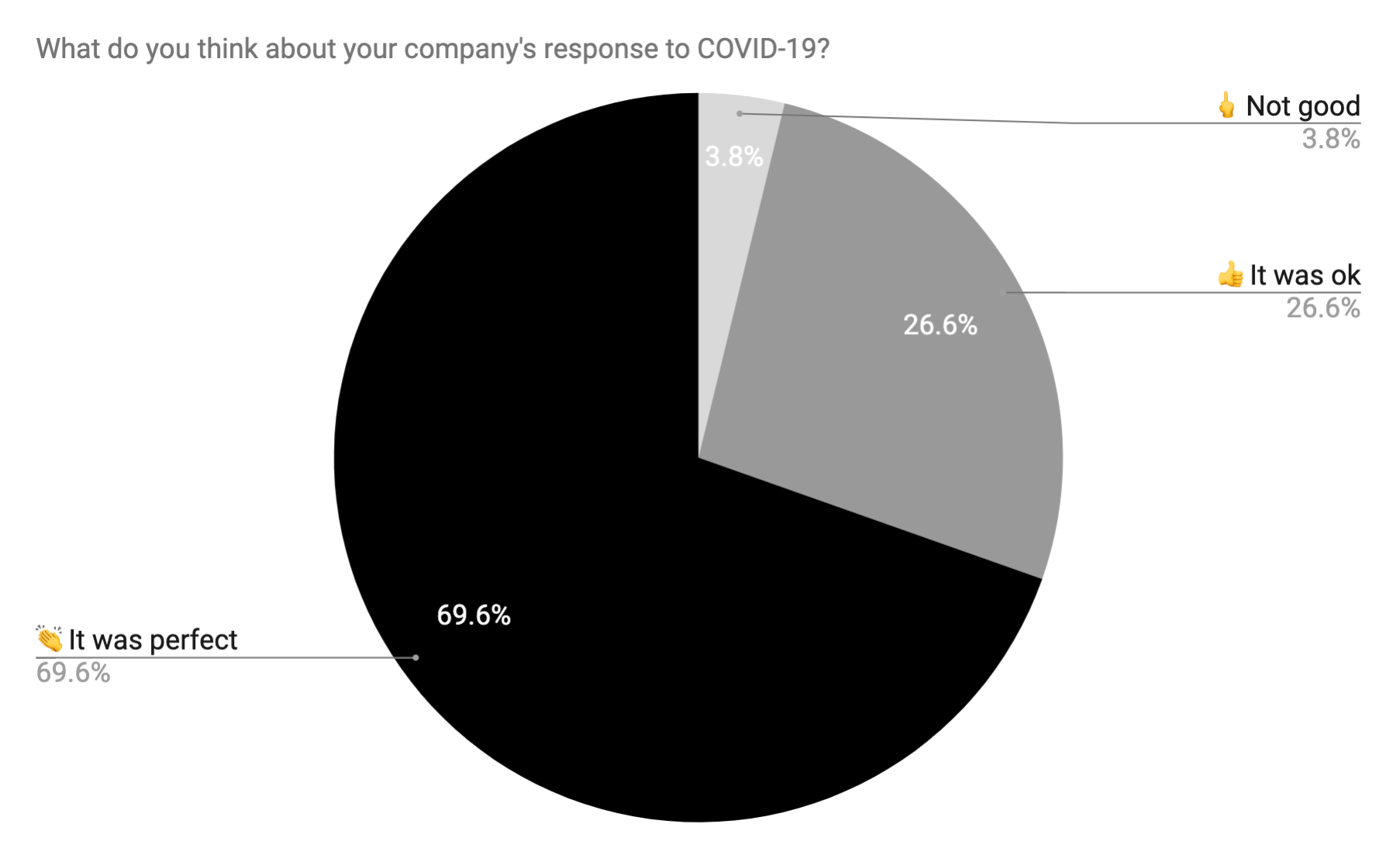 In general, architects felt their companies reacted well to the COVID-19 crisis. There was a general feeling that everyone was doing what they could and trying to adapt as they go.
« Hard to really complain. They have been transparent and accommodating - hard to ask for much more in this situation.»
— Austin, from HENN, in Berlin (DE)

« We were given the option to "do what we felt best" when there were under 100 cases in Australia.»
— Tim Neilen, from PKCG, in Brisbane (AU)
One case, however, did stand out: TOPOTEK1, in Berlin. It was the only negative response among all participants. Two testimonials alleged people were harassed and not allowed to work from home, threatened with salary cuts and job loss.
« The atmosphere and response at Topotek has been deplorable. We were literally told "everyone in the office is young and won't die, so who cares."»
— employee from TOPOTEK1, in Berlin (DE)

« The bosses are just worried about keeping the business running without any concern about the worker's safety. They don't mind if people could get a virus and sick.»
— employee from TOPOTEK1, in Berlin (DE)
Conclusions?
Well, not so fast.
As much as we answered some questions, the results do raise a lot of new ones.
It seems the focal point is not only about how to work remotely in architecture. Work itself seems to run smoothly, even when each team member is in a different location. Tools are working, and people are adapting.
The most significant dissatisfaction is also one of the main issues with remote working and the current COVID-19-crisis forced isolation: social connections. Video calling can only go so far as to foster deeper relationships, something that happens naturally when you are occupying the same space with someone for hours every day.
Many tools are trying to address that, and we'll for sure see many more coming up as people try to fill this gap. It is a gap long present in remote work, only made broader and more visible now that everyone is suddenly on the same boat.
How can we balance that? How can we provide architects with freedom and flexibility and still foster interpersonal collaboration and connections? Is it a mix of remote and presential work? Company retreats? Mixed teams? Better tools and processes?
We plan to keep asking questions, and your opinion is, as before, precious. Keep an eye for future surveys to help you understand the state of our profession today and how to make it better and better for the future. 💪
What now?
In the past few days, we've been hearing more and more about "plans to ease the restrictions." It is what most of us have been waiting for: when life comes back to "normal."
We are sure it will. People will go back to their offices and resume work just as before.
However, there will be some of you who, having had a taste of how things can be different, will start to question the status quo of the 40-hour-workweek at the office.
RAC will be around to help. We are still on a mission to try and understand the profession, you, and your employers, in the hopes of making architecture practice as enjoyable as it should be.
Following, are some of the areas we are looking into for the future of Remote Architects Club:
Tools & Processes
While we saw how well served architects are when it comes to tools for remote collaboration, there are still two visible gaps.
First, the lack of dedicated tools for architects. Sure, we can use many of the available video-conference software, chatting apps, and file-sharing protocols out there. However, architecture work is very specific, and, other than complex BIM and CAD applications, there is little out there create specifically with architects in mind.
Second, there is a lag between what tools are capable of and how we traditionally do our work. Companies must understand that remote work is not the same as work in the office. Successful remote collaboration is only possible when the mindset changes, and processes are adapted for a different way of working.
We want to surface the tools and processes to make this happen. For that, we need to understand the chain of software used by companies and how things could be adapted for the best results. Expect more surveys, interviews, and reports about the state of how things are done.
Recruitment
Architecture job boards are plenty, but none are dedicated to remote recruitment. Also, hiring remotely is a whole different game. Companies can tap on a worldwide pool of talent without the burden of visas and geographical boundaries. Job seekers who are willing to go remote can work from anywhere, for anyone.
However, this does not come without its difficulties. Onboarding becomes essential when hiring remotely, and company culture has to adapt to give new hires the same treatment and sense of belonging than those working at the office.
Collaboration
Hiring an architect for a fulltime job is also something that will be challenged in the coming years. With the possibility of remote working, companies will be able to flexibly increase and decrease their workforce on a project-base, with reduced overhead by counting on remote freelancers. Architects will be able to work with different companies on different projects in different places simultaneously.
The worry here is the replacement of local architects by cheap labor from abroad. While this will definitely happen at some level, we believe high-quality, specialized architects will still be highly valued and sought out by companies all over the world. If they desire, working remotely could be an incredible option to develop their careers and live their lives in their own terms. These are just some of our current ambitions.
We believe this is just the beginning. The first "push" in the quest to bring architecture practice to modern times. The answer might not be "100% remote," but it is undoubtedly one aspect of it.
As always, we are open to ideas and collaborations. Do get in touch!
And keep an eye for news to come.
Daniel is a Brazilian architect based in Berlin, founder of Remote Architects Club and traveler at [theforeignarchitect.com](https://theforeignarchitect.com)